Our work with the United Nations
Our work with the United Nations
Habitat for Humanity International and the United Nations Human Settlements Programme recently renewed their long-standing partnership to collaborate and promote the global need for affordable housing. Over the next five years, the two organizations will work together to support the development and implementation of sustainable and affordable housing programmes globally.
Habitat contributed to the development of SDG11 Sustainable Cities and Communities. Housing is a major driver and contributor to 13 of the 17 Sustainable Development Goals as it impacts health, education and livelihood. Housing is a prerequisite for inclusive, equitable, safe, resilient, and sustainable cities.
At Habitat, we believe that we can work towards the UN's Sustainable Development Goals (SDG) by 2030 by partnering with organisations who want to make a meaningful and lasting difference.
We are committed to achieving the following SDGs:
SDG 1 No Poverty
SDG 5 Gender Equality
SDG 6 Clean Water and Sanitation
SDG 7 Affordable & Clean Energy
SDG 11 Sustainable Cities and Communities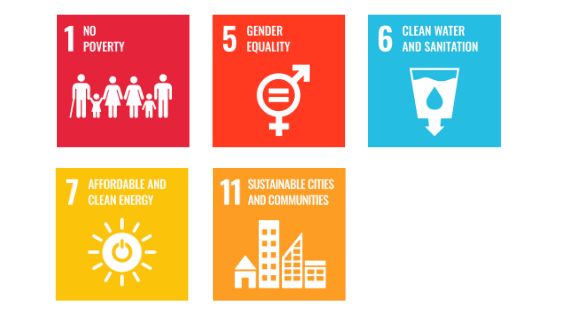 Habitat for Humanity, working with civil society organizations, local governments and other stakeholders through alliances, networks and platforms, contributed to the creation of SDG 11, specifically Target 11.1.
Learn more about our work on SDG 11: