Finance Secretary Paul Chan Mo-Po delivered his 2022-2023 Budget speech amidst an unprecedented fifth wave in the Covid epidemic. Habitat Hong Kong recognizes the Government's anti-pandemic priorities that limit the spread of the coronavirus and support public health. We urge the equitable allocation of resources to further strengthen housing conditions that minimize virus transmission and to plan for long-term healthy, inclusive, and resilient communities in future. 
"In the future, we hope that the Government will direct the same urgency and agility they put into building COVID infrastructure, towards providing housing for those in desperate need of an affordable, safe and sanitary home." Jo Hayes, CEO Habitat for Humanity Hong Kong.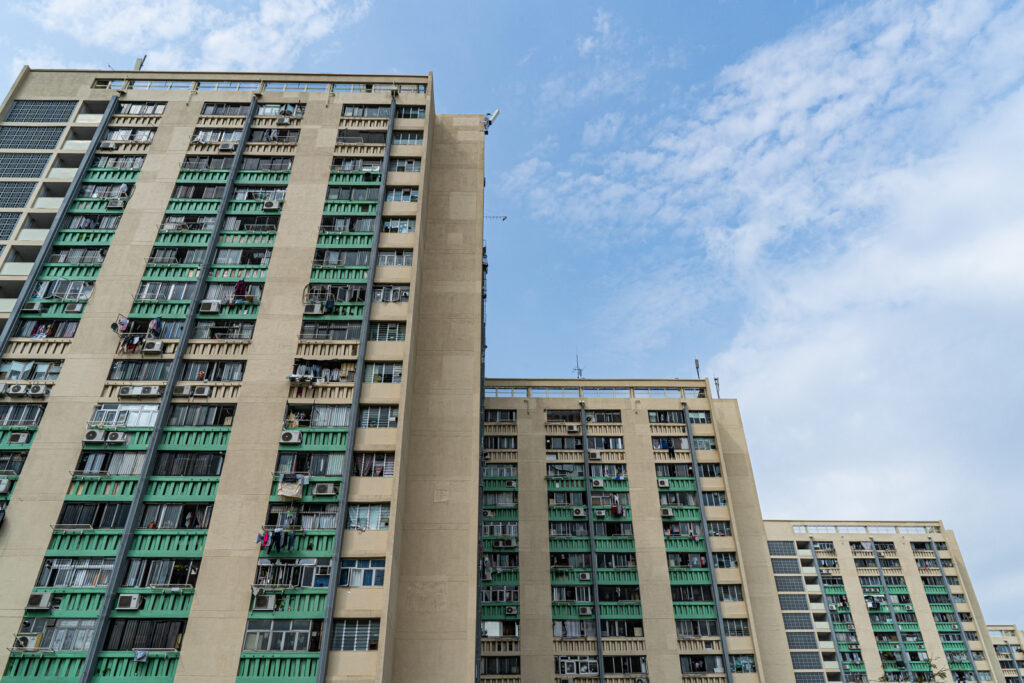 Leave No One Behind 
Urgent and Immediate Support for Refugees and Asylum Seekers 
The Finance Secretary declined to reference specific social welfare resources to support refugees and asylum seekers through the COVID pandemic, yet they are in immediate need of help. Refugees and asylum seekers are subject to rampant discrimination as they seek housing and tend to live in the worst subdivided flats with dire hygiene conditions. As members of this community are not permitted to work, they are more vulnerable to negative effects of the pandemic in terms of livelihood, and limited in their ability to purchase food, test kits and medicine. The food cards issued to refugees and asylum seekers are useable only at grocery stores where products are expensive and cannot be used in wet markets where vegetables and meat are cheaper and more plentiful. With refugee and aid agencies closed or operating on limited hours, people are cut off from receiving utilities and transportation subsidies1.  We urge the Government to distribute resources aimed at relieving public hardship in a manner actively inclusive of refugees and asylum seekers, by reaching out to NGOs serving these communities to facilitate aid to those who are falling through the cracks.
Suddenly Homeless Migrant Domestic Workers   
In a recent unsettling trend, migrant domestic workers who test positive for COVID are being turned out of their living quarters. Sick and suddenly homeless, they are spending nights on the street unable to find shelter. We recognize the Government is working in partnership with NGOs serving migrant domestic workers to facilitate move to community isolation facilities. We urge the Government to allocate anti-pandemic resources to enforce the Employment Ordinance and recognize the urgency of finding adequate shelter for this population. 
Families Living in Subdivided Units (SDUs) 
This global pandemic has highlighted the fact that adequate housing conditions are more important than ever, and we are seeing another troubling trend emerging of families living in precarious housing such as subdivided units, testing positive and having nowhere to go. They too need to be prioritized in the provision of emergency shelter. At Habitat and in partnerships with community leaders, we developed a report of Minimum Standards Recommendations for the immediate need to improve the living conditions of families in SDUs. We believe housing that is affordable, adequate, and provides basic services can help to ensure that the next pandemic will not unequally impact the most vulnerable amongst us.  
Extend Rent Relief Measures for SMEs to Private Residential Tenants  
To support small and medium enterprises, Hong Kong landlords will be banned from terminating tenancies or taking legal action against certain business tenants for potentially up to six months. We recognize the importance of sustaining business enterprises through the pandemic but believe it is also crucial to support the other half of the equation – the grassroots who experience decreased working hours or are being let go from their jobs. We strongly echo a recommendation from the Society for Community Organization to extend rent provisions to private residential tenants. Landlords who may be affected by the decrease in their rental income may appeal to banks and the HK Monetary Authority who can exercise flexibility during this exceptional time. 
Strengthen Property Management 
Hygiene Conditions 
The ongoing pandemic continues to highlight the lack of hygienic conditions in residential buildings over 40 years old and especially within "three-nil" buildings – those lacking property management or Owners Corporations to manage upkeep. The Home Affairs Department has been providing enhanced cleaning services to "three-nil" buildings for over a year, while also strengthening the Building Management Professional Advisory Service Scheme (BMPASS) and the Resident Liaison Ambassador Scheme. We urge fair allocation of these resources to ensure that these schemes include outreach to and participation of members of ethnic minority communities and other traditionally marginalized groups. 
At the same time, immediate action is needed to improve hygiene conditions in buildings that house subdivided flats. The Center for Health Protection issued comprehensive infection control guidelines to property management groups outlining the frequency with which to clean and disinfect common areas. However, SDU tenants and those living in buildings that lack property management are not receiving equal or adequate protection. We urge anti-epidemic funds be directed to the cleaning and disinfection of common areas in three-nil buildings, including provisions for cleaning teams outfitted with protective PPE gear and cleaning equipment and supplies which are currently lacking. To address the long-term situation, we urge the government to consider allocating financial support to community generated solutions, such as the "Community Management" model proposed by the Three-No Building Society.  
Drainage Pipes
In last year's budget, $1 billion HKD was allocated to launch the Building Drainage System Repair Subsidy Scheme in collaboration with the Urban Renewal Authority, to provide technical and financial assistance to owners of dilapidated buildings to improve the condition of common drains. The Government listened to public concerns regarding potential virus transmission and allocated resources to improve drainage pipes. Though results of this programme appear to be not yet publicly available, we encourage the Government to fund both additional research and targeted improvements to support the health and safety of tenants living in dilapidated buildings and subdivided flats.    
Plan Inclusive Communities for Northern Metropolis 
Community Participation
As the Government develops plans for the Northern Metropolis, we urge that resourcing for stakeholder engagement and consultations stipulate the inclusion and participation of members of grassroots and traditionally marginalized groups. Providing sustained and accessible structures through which a diversity of community members participate can ensure that powerful voices do not drown out the vulnerable.
Barrier-free Design 
We urge the Government to allocate planning resources to implement barrier-free design – recommended design requirements that aim to facilitate greater independence of persons with disabilities, the elderly, and others – across residences, community facilities, shopping areas, and infrastructure in the Northern Metropolis. The Government currently mandates that new buildings adhere to barrier free-design guidelines, but compliance lags. As a result, persons with disabilities and many elderly residents are excluded and experience daily challenges that restrict an independent life. According to the Census and Statistics department, the percentage of elderly in Hong Kong is anticipated to increase from 18% of the population in 2019 to 33% in 20392 with persons with disabilities making up over 7% of the total population3. Barrier-free design would directly benefit a large percentage of the community and incorporating barrier-free access from the outset, would reduce the need for costly and disruptive accommodations needing to be made retroactively in the future.  
Facilitate Increased Transitional Housing Units 
Innovating Increased Transitional Housing Units 
The announcement of 20,000 additional transitional housing units is a welcome addition. However, the quantity is not enough to meet the needs of the community. There are an estimated 110,000 households living in subdivided flats4. We welcome the announcement of measures to streamline and speed up construction. With around $20 billion HKD being spent on facilities at Penny's Bay and other isolation facilities, we urge the government to study ways to adapt, renovate, remodel, and relocate these isolation facilities to provide additional transitional housing unit.
To discuss how to get involved with Habitat for Humanity and support our public policy and research work, please email Megumi Harker, Public Policy & Research Manager at: megumi.harker@habitat.org.hk